Affordable Paintless Dent Repair Services in Tualatin, OR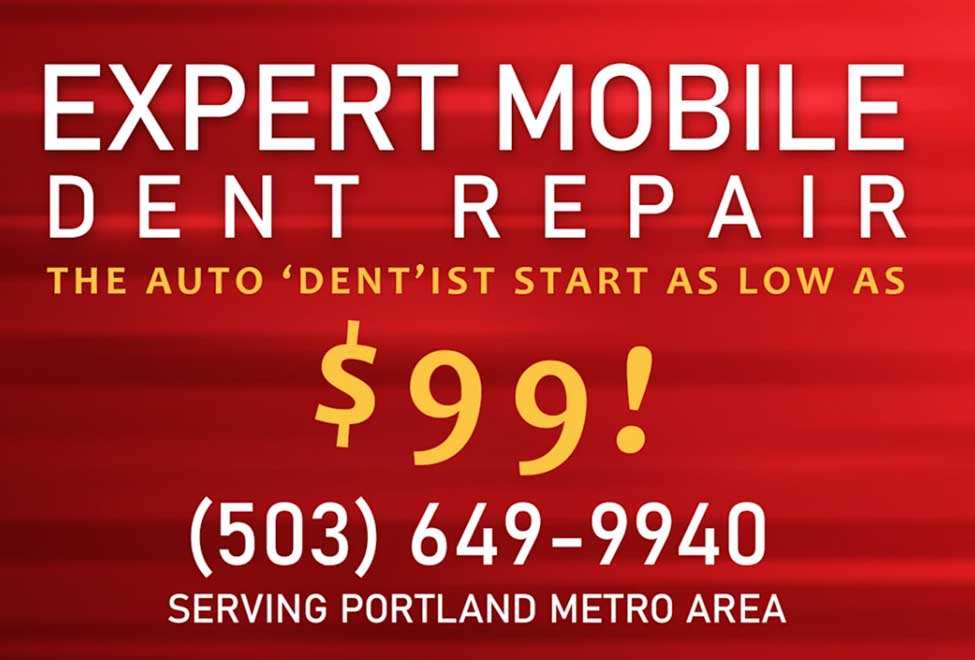 Are you looking for fast and efficient car paintless dent repair in Tualatin? Look no further than The Auto "Dent"ist, the leading provider in the area. With over 20 years of experience, this family-owned business is known for its exceptional quality, service, and professionalism. Our top priority is customer satisfaction, and our team of technicians will come to your location and have your vehicle looking brand new in under an hour. We have established ourselves as Tualatin's most reliable paintless dent repair company.
Why waste time and money at an auto body shop? Save both by calling The Auto "Dent"ist today. We offer a 100% customer satisfaction guarantee, so you only pay if you're happy with the results. Trust The Auto "Dent" experts for quick, efficient, and affordable dent repair.
Looking for top-quality dent repair services in Tualatin? Look no further than The Auto "Dent"ist! We specialize in paintless dent removal (PDR), a proven method embraced by the automotive industry for years.
At The Auto "Dent"ist, our skilled technicians employ specially designed tools to gently massage dings and minor dents from inside the panel, restoring them to their original shape. This means you don't have to worry about costly panel replacements or extensive repairs. Our efficient approach ensures that most minor dings can be repaired in 10-20 minutes, with most work completed within an hour.
Our high success rate speaks for itself, with 80-90% of dings and dents being repairable using our PDR method. Our techniques are so effective that you won't be able to detect any signs of damage once we're finished.
While most dents can be successfully repaired, we understand there may be more challenging cases. Deep dents that have pushed the metal too far or dents along the seams of the panel can present difficulties. However, our skilled technicians are up for the challenge and will diligently work to restore your car to perfection.
(PDR) Paintless Dent Repair in Tualatin, Portland, Oregon City & Surrounding Areas | Advantages of ( PDR) Paintless Dent Repairs vs. Traditional Body Shop Work
In Tualatin, paintless dent repair offers numerous benefits compared to traditional body shop work. It enables the preservation of the vehicle's original manufacturer's finish, eliminating the need for fillers, sanding, or painting. With this method, you can avoid concerns about mismatched colors or a disturbed finish.
Additionally, choosing paintless dent repair in Tualatin has other advantages. You no longer have to leave your vehicle at a repair shop overnight, saving you time and inconvenience. Renting a car during the repair process is also unnecessary.
Moreover, paintless dent repair helps maintain your vehicle's resale value. As the original finish is preserved, potential buyers are more likely to pay a higher price for a car in excellent condition.
Another significant advantage is the cost-effectiveness of paintless dent repair. The rates are approximately 1/4 to 1/2 of what you typically pay at a regular body shop. This means you can have your dents repaired at a more affordable price without compromising quality.
FAQ's about paintless dent repairs (PDR) vs. traditional body shop work:
Q: What is paintless dent repair (PDR)?
Paintless dent repair (PDR) is a specialized process that removes vehicle dents without repainting. Technicians use unique tools to push the dent out from the inside, restoring the car's original appearance. PDR has become increasingly popular due to its cost and time efficiency compared to traditional body shop repairs.
Q: What are the advantages of PDR?
There are several benefits to choosing PDR for dent repair:
Lower cost compared to traditional body shop repairs
Faster turnaround time
No need for repainting, resulting in long-term cost savings
Reduced risk of paint damage
Environmentally friendly option compared to traditional body shop work
Q: Are there any disadvantages to PDR?
While PDR is highly effective, there are a few limitations to be aware of:
Deep or complex dents may not be suitable for PDR repair.
Some dents may only be partially corrected, leaving a slight indentation.
Older vehicles with faded or damaged paint may respond differently to PDR techniques.
Trusted Paintless Dent Removal
Auto "Dent" ist Inc. was established in 1993 by William Andrus as a family-owned business. With a focus on quality, service, and professionalism, the company has set the standard in the industry. 2014 Grant Andrus joined the team, guaranteeing the business's continued success for years.
Paintless Dent Repair Tualatin: Restore Your Car's Beauty and Value Fast, Affordable, and Reliable Call (503) 649-9940