Paintless Dent Repair Beaverton, OR | Fast, Affordable Dent Removal
The Auto "Dent"ist is Beaverton's go-to company for all your dent repair needs. Our quick, reliable, and professional service has been a favorite of locals for over two decades. Our certified technicians come to you to repair your vehicle with our paintless dent repair process. Our highly skilled experts can restore your car to its original condition in less than an hour in most cases. We understand that your vehicle and your time are important to you, so we provide an expedient, quality service that is unmatched. Customer satisfaction is our primary goal, and we guarantee that you'll be satisfied with the results. Call us today to get started.
Don't spend hundreds of dollars getting your small dent repaired in an auto body shop! Save time, money, and the hassle of a rental car and call The Auto "Dent"ist today! We offer a 100% customer satisfaction guarantee. If you aren't pleased with the results of your dent repair for any reason, we will not charge you for our services.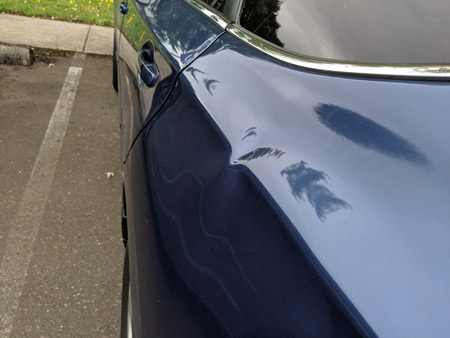 Affordable Paintless Car Dent Repair Services Near Me Beaverton
Paintless Dent Removal has been an effective automotive assembly line solution since the mid-eighties. This technique utilizes specially designed tools that are used to massage the small dings and minor dents from within the panel so that it can return to its original shape. Through this process, the dents and dings are pushed out from the inside rather than requiring a new panel or time-consuming methods for repair. Repairs of this nature take up to 10-20 minutes for minor dings and, more often, get completed within an hour. The success rate of repairs using this method is estimated at 80-90%.
Utilizing state-of-the-art technology and advanced techniques, our technicians can usually make your dent disappear without leaving a trace. At our facility, most dent repairs are nearly undetectable. But, some dents may be more difficult to repair. These may include deeper dents where the metal has been pushed too far and dings along the seams of the panel. Our experienced technicians strive to bring your car back to its pre-accident condition at a much lower cost than a repair shop. With the latest tools and methods, we'll usually make the dent imperceptible without leaving any trace.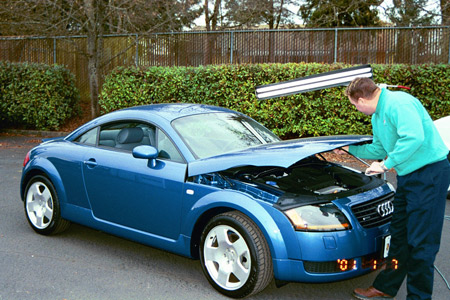 Advantages of Paintless Dent Repairs vs. Traditional Body Shop Work
The ability to offer lifetime warranties. Paintless dent repair by The Auto "Dent"ist is a fast, cost-effective, and reliable method for repairing dents and dings in all vehicles. With minimal interruption to your day, and a fraction of the cost of body shop rates, this dent repair provides significant savings and quality repair services. From small door dings to large hail damage, The Auto "Dent"ist provides unmatched service and value in paintless dent repair. Most repairs from The Auto "Dent"ist start as low as $99!
Trusted Paintless Dent Removal
If you need superior paintless dent repair in the Northwest, the only name you need to know is The Auto "Dent"ist! Serving Beaverton since 1993, we are the industry leaders in providing quality, service, and professionalism with each repair. We invite you to call us today to schedule an appointment to get your vehicle back to perfection with paintless dent removal.
Trusted Paintless Dent Removal Beaverton OR FAQ
1. How much does paintless dent removal cost in Beaverton, OR?
The cost of paintless dent removal can vary dramatically depending on the type and size of the dent, as well as the number of dents you need to get fixed. Generally speaking, paintless dent removal services range anywhere from $50-$150 per dent but may be more or less depending on the complexity of the job.
2. How long does it take to complete a paintless dent removal job in Beaverton, OR?
The time it takes to complete a paintless dent removal job in Beaverton, OR, also varies depending on the dents, but on average, can take anywhere from 1-2 hours to complete.
3. Is paintless dent removal permanent?
Yes, paintless dent removal is typically a permanent repair, as the technician manipulates the metal back to its pre-dented shape. If done properly, the repair should be entirely undetectable.
ABOUT BEAVERTON OREGON
Beaverton is a city in Washington County, Oregon, United States, with a population of 98,216 as of the 2020 census. It is located in the Tualatin Valley, about 7 miles west of downtown Portland. Beaverton is a major center for technology and manufacturing, with many large companies headquartered in the city, including Nike, Tektronix, and Precision Castparts. The city is also home to a number of educational institutions, including Portland State University, Oregon Health & Science University, and the Oregon Institute of Technology.
Beaverton is a vibrant and growing city with a lot to offer residents and visitors alike. The city has a strong economy, a diverse population, and a variety of cultural and recreational amenities. Some of the things you can do in Beaverton include:
Visit the Nike World Headquarters, which offers tours and exhibits about the company's history and products.
Explore the Beaverton Japanese Garden, which is a beautiful and peaceful oasis in the city.
Take a walk or bike ride on the Beaverton Creek Trail, which is a 7-mile paved trail that runs through the city.
Visit the Beaverton Arts Center, which hosts a variety of art exhibitions and performances throughout the year.
Enjoy a meal at one of Beaverton's many restaurants, which offer a variety of cuisines from around the world.
Help Restore Your Car's Beauty and Value | Call (503) 649-9940