Affordable Paintless Dent Repair Services in Sunnyside, OR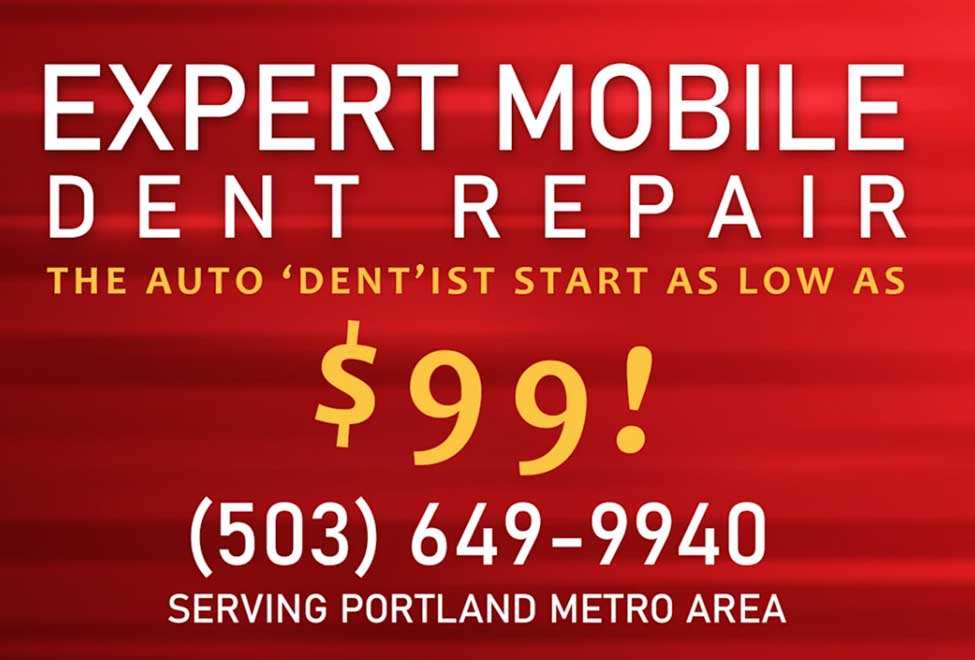 When it comes to fast and efficient car paintless dent repair in Sunnyside, The Auto "Dent"ist is the top choice. With over two decades of experience, we have established ourselves as the leading provider in the area. As a family-owned business, we take immense pride in the exceptional quality, service, and professionalism we offer.
Why waste your precious time and hard-earned money at an auto body shop when you can give The Auto "Dent"ist a call? Our 100% customer satisfaction guarantee ensures that you only pay if you are completely satisfied with the results. You can trust our team of experts to provide quick, efficient, and affordable dent repair services.
Don't let unsightly dents ruin the appearance of your car any longer. Contact The Auto "Dent"ist today for Sunnyside's best paintless dent repair service. Experience the difference our expertise and dedication can make for your car.
Our advanced paintless dent repair (PDR) technique is the ultimate solution for restoring your vehicle to its original condition. Say goodbye to expensive panel replacements and lengthy repairs because our innovative approach can fix most minor dents in 10-20 minutes. Our team can complete the majority of our work within an hour.
Our PDR method is impressive, boasting a success rate of 80-90% when it comes to fixing dings and dents. You won't believe your eyes when you see the results – your car will look as if it was never damaged in the first place. Our technicians take great pride in their meticulous attention to detail and strive to restore your vehicle to its flawless state.
Our skilled technicians are up for the task, even for the more challenging cases, such as deep dents or those located along seams. They have the expertise and experience to tackle even the most difficult dents, ensuring your vehicle looks as good as new. Trust us to provide the best paintless dent repair service for your vehicle. Contact us today to learn more or to schedule an appointment.
(PDR) Paintless Dent Repair in Sunnyside, Portland, Oregon City & Surrounding Areas | Advantages of ( PDR) Paintless Dent Repairs vs. Traditional Body Shop Work
Choosing paintless dent repair over traditional body shop work in Sunnyside offers numerous benefits that can enhance your vehicle's condition and save you time and money. One of the main advantages of paintless dent repair is that it preserves your vehicle's original manufacturer's finish. This technique eliminates the need for fillers, sanding, or painting, ensuring that the colors will not be mismatched, and the finish will not be disturbed. By maintaining the original finish, paintless dent repair helps retain your vehicle's overall appearance and value.
In addition to preserving your vehicle's appearance, opting for paintless dent repair in Sunnyside saves you time and inconvenience. Unlike traditional repairs, you won't have to leave your vehicle at a repair shop overnight or rent a car. This means you can get your vehicle back on the road sooner without disrupting your daily activities.
Another benefit of paintless dent repair is that it helps maintain your vehicle's resale value. By preserving the original finish, potential buyers are more likely to pay a higher price for a car in excellent condition. This can be especially beneficial if you plan to sell your vehicle.
FAQ's about paintless dent repairs (PDR) vs. traditional body shop work:
Q: What is paintless dent repair (PDR)?
Paintless dent repair (PDR) is a specialized process that removes vehicle dents without repainting. Technicians use unique tools to push the dent out from the inside, restoring the car's original appearance. PDR has become increasingly popular due to its cost and time efficiency compared to traditional body shop repairs.
Q: What are the advantages of PDR?
There are several benefits to choosing PDR for dent repair:
Lower cost compared to traditional body shop repairs
Faster turnaround time
No need for repainting, resulting in long-term cost savings
Reduced risk of paint damage
Environmentally friendly option compared to traditional body shop work
Q: Are there any disadvantages to PDR?
While PDR is highly effective, there are a few limitations to be aware of:
Deep or complex dents may not be suitable for PDR repair.
Some dents may only be partially corrected, leaving a slight indentation.
Older vehicles with faded or damaged paint may respond differently to PDR techniques.
Trusted Paintless Dent Removal
Auto Dent Inc. is a trusted and reliable family-owned auto repair business providing excellent services since it was established in 1993. Founded by William Andrus, this company has always prioritized delivering exceptional service, ensuring customer satisfaction, and maintaining high professionalism.
What sets Auto Dent Inc. apart is its commitment to delivering top-quality results. The company takes pride in achieving flawless repairs and restoring vehicles to their original condition. Whether a minor dent or a major collision, their highly skilled technicians use the most advanced tools and techniques to achieve exceptional outcomes.
At Auto Dent Inc., customer satisfaction is their primary focus. They understand that vehicle repairs can be a stressful experience, so they strive to make the process as smooth and stress-free as possible. From the moment you request a quote to the completion of the service, their friendly and knowledgeable staff will be there to assist you every step of the way.
Paintless Dent Repair Sunnyside: Restore Your Car's Beauty and Value Fast, Affordable, and Reliable Call (503) 649-9940