Repair Your Vehicle Damage In 3 Easy Steps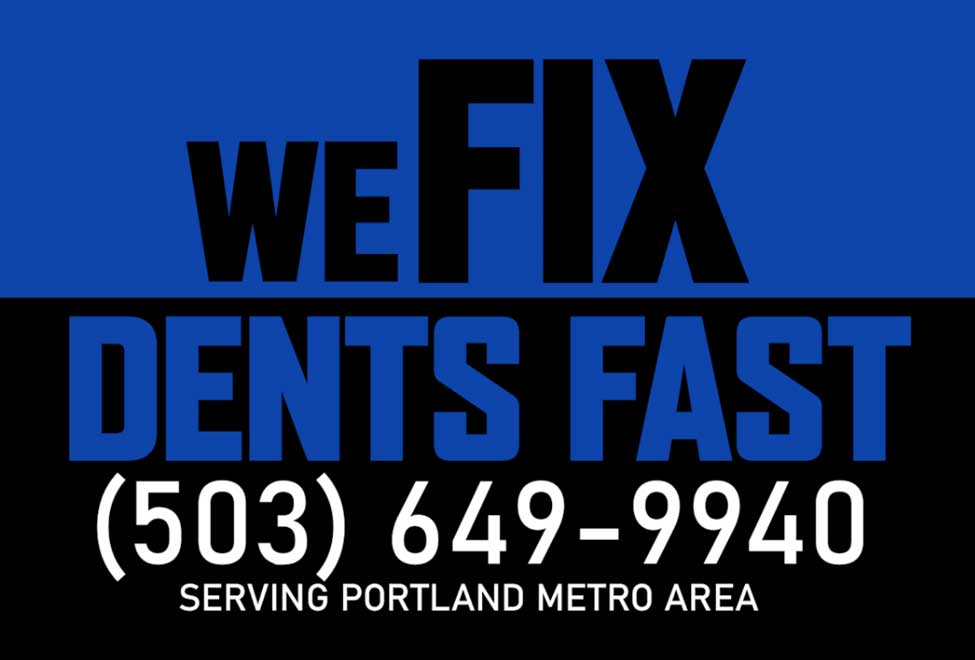 Capture the perfect snapshot of your car's damage with The Auto 'Dent'ist! Take two photos of the vehicle damage – one from 2 feet away and the other at 4 feet back, both at 45-degree angles. After taking the photos, click the button below to text us the images and get an assessment of the damage. We restore cars to their former glory; no repainting is needed Get back on the road fast—speedy, dependable & affordable paintless dent removal.
Step 2. Get Your Free Quote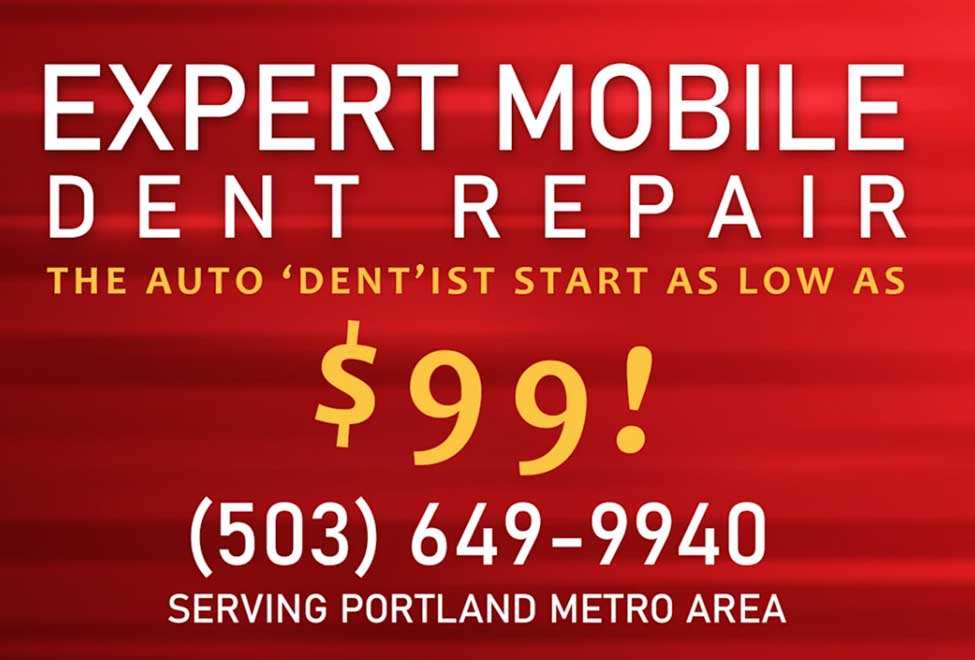 With our team, you can get your car looking like new again with no need for repainting. We can even provide same-day service so you're back on the road in no time. Call us to experience speedy, dependable, and affordable auto body work. The Auto 'Dent'ist team serves all of Portland & beyond. We restore cars to their former glory; no repainting is needed. Get back on the road fast—speedy & affordable pantless auto dent removal.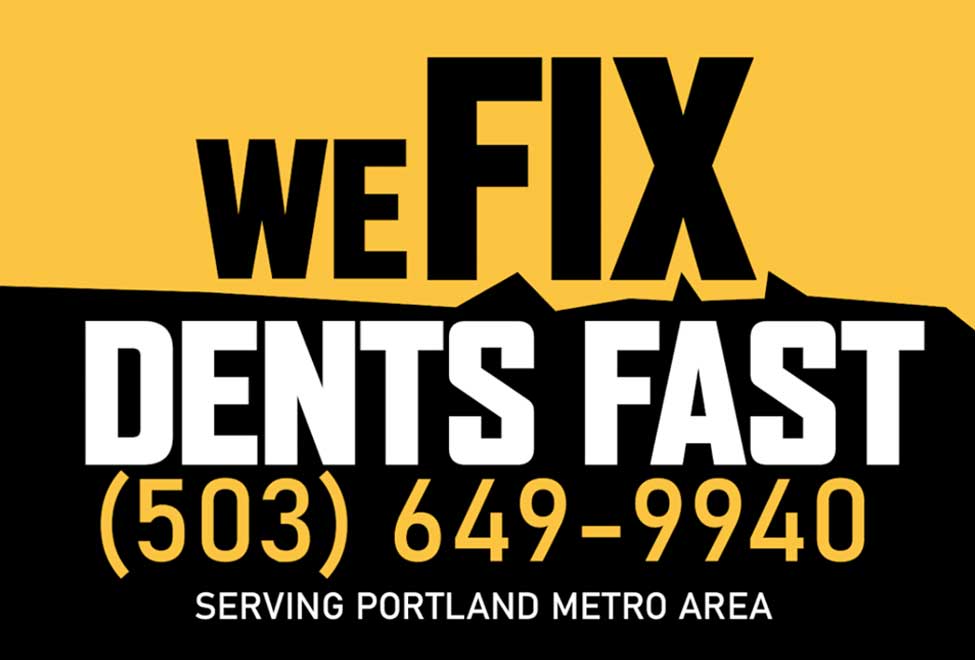 Say goodbye to the days of having to schedule a visit to the body shop and waiting for your car's dent removal repair to be completed. Our mobile technicians come to you and provide convenient and efficient dent removal repairs in Portland and the surrounding areas. Our repairs can usually be completed within one hour at your home or workplace, so you don't even have to take time off from work or school to get your car looking its best.
CELEBRATING 26 YEARS IN BUSINESS
Locally Owned Paintless Dent Repair
Don't spend hundreds of dollars getting your small dent repaired in an auto body shop! Save time, money, and the hassle of a rental car, and call The Auto 'Dent'ist today! We offer a 100% customer satisfaction guarantee. If you aren't pleased with the results of your dent repair for any reason, we will not charge you for our services.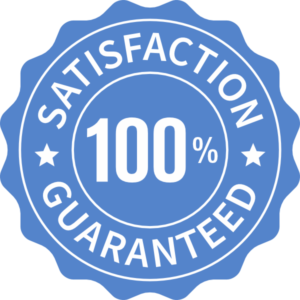 Advantages of Paintless Dent Repairs vs. Traditional Body Shop Work
Paintless dent repair has several great advantages to traditional body shop work. Firstly, the vehicles' original manufacturers finish isn't disturbed since there isn't a need for fillers, sanding, or painting. Since no painting is involved, you'll have no worries about mismatching colors.
Paintless Dent Repair in Portland, Oregon City & Surrounding Areas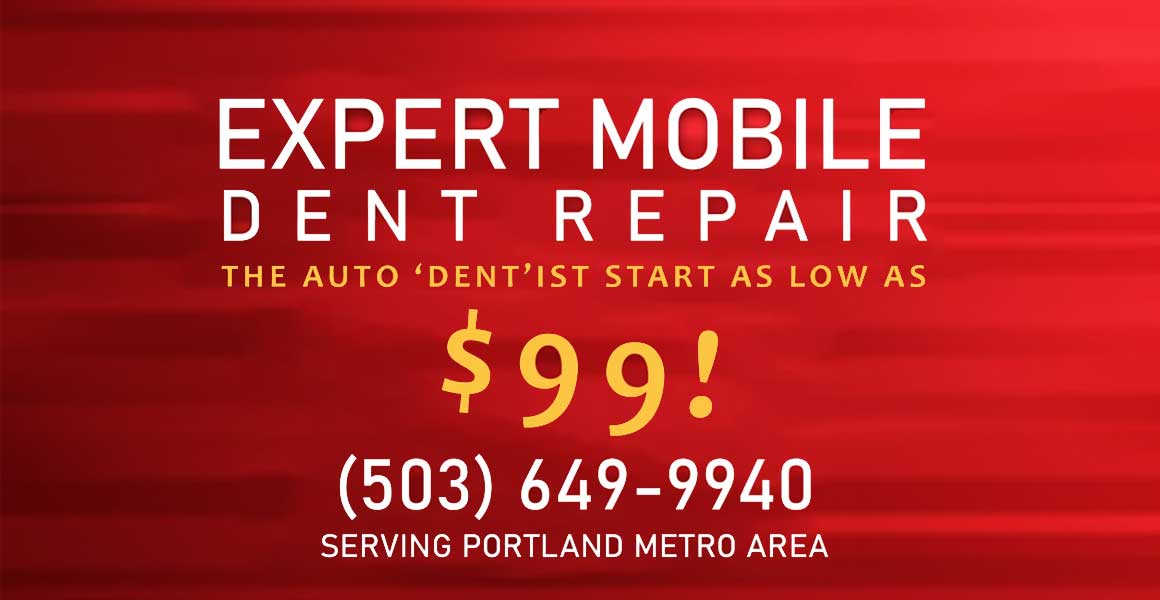 Our technicians provide a mobile service to your location, ensuring quick and dependable repair of your vehicle in no time. Our experienced crew is proud to have cultivated a reputation for exceptional service in Oregon City and can often repair dings and dents in under an hour. Our mission is to restore your vehicle to a "like new" condition, leaving you satisfied with a job well done.
We Come To You for Paintless Dent Repair in Portland, OR
For over 25 years, Auto "Dent"ist has been providing top-notch paintless dent repair services to customers in Oregon City and its surrounding areas. Not only that, but their fast and efficient services mean that you don't have to wait around for your car to be looking brand new again – even if you've just noticed that small dent! For over 20 years, The Auto "Dent"ist! Been the premier choice of the community for car dent removal with its quality service, professional care, and dedication to customer satisfaction. Whether you need small dings, dents, or more substantial damage repaired, The Auto "Dent"ist! The team has you covered with the repair you need. With competitive prices and fast response times, you can trust that your car will have a gleaming look again in no time. Most repairs from The Auto "Dent"ist start as low as $99!
We Come To You for Paintless Dent Repair in Portland, Oregon City & Surrounding Areas
The process essentially uses specially designed tools to massage out dents from the inside while preserving the original paint finish. PDR is a popular choice among car owners because it is a relatively cost-effective way to remove dents from cars without affecting the quality of the paint job. The process generally requires technicians to access the underside of the car and locate the points where the dent is located. Special tools are then used to massage the dent out from the inside without damaging the exterior of the vehicle. The result is a vehicle that looks as good as new and costs far less than a traditional repair. By utilizing a range of different tools and techniques, the outline of the area is restored without having to replace any parts. This helps to reduce costs and time considerably. The Auto "Dent"ist provides an effective and efficient way to repair small dents and dings from a car's panel without having to replace it. Using specially designed tools, a PDR technician gently massages the inside of the panel to restore the shape back to its original form. This not only reduces time and cost but also maintains the original panel in good condition.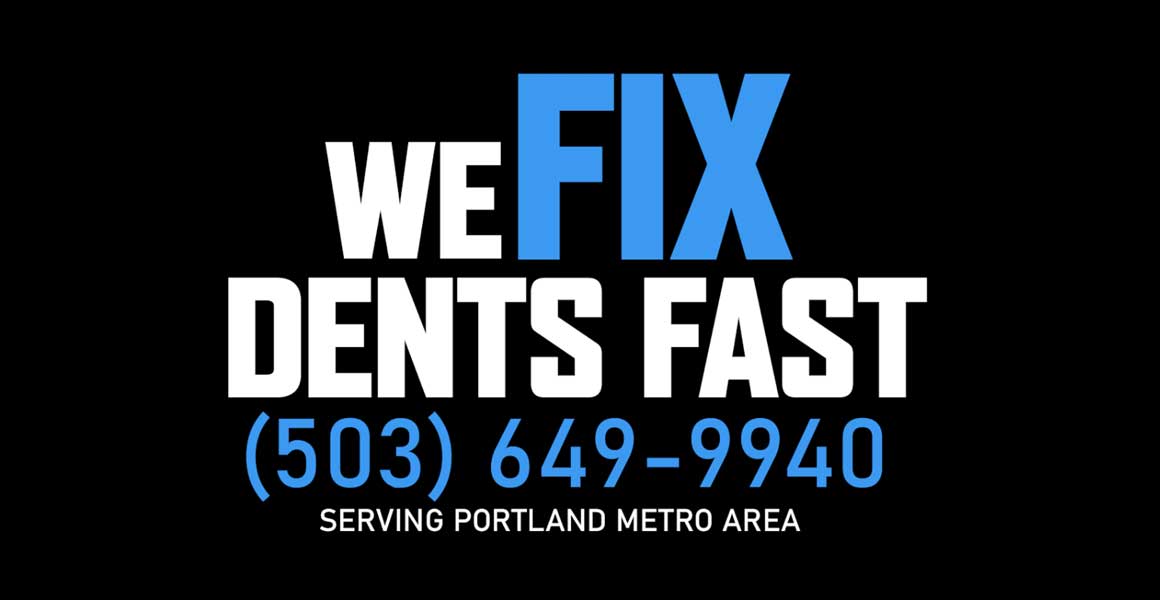 Our process for dent repair involves using specialized tools to gently push the the metal back into its original form, allowing it to look just like it did before the dent or ding occurred. The average time required for such repairs is between 10 and 20 minutes for minor dents, and the vast majority of dings and dents are repairable with this method, with 80-90% of assessments resulting in a successful repair.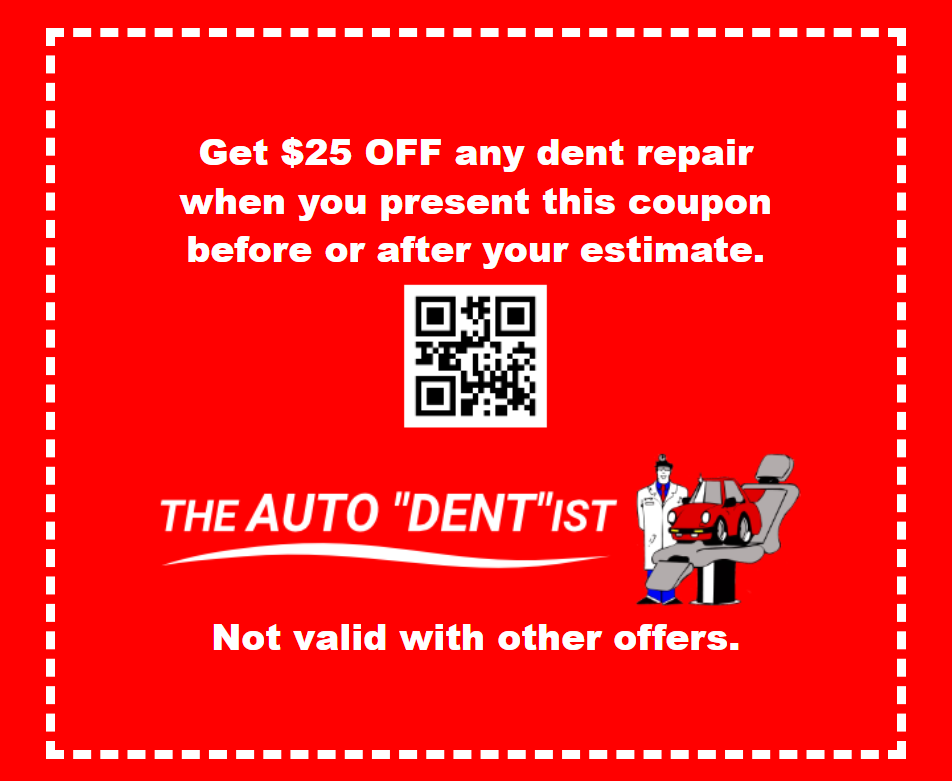 Experienced Paintless Dent Repair Technicians in Portland, Oregon City & Surrounding Areas
Have an unsightly dent or ding on your car? Get back to perfection with paintless dent removal and repair from The Auto "Dent"ist! Serving the Northwest since 1993, we are the expert technicians that provide top quality service and professionalism. Our services will leave your car looking as good as new – call us today and get your vehicle back to perfection! Most repairs from The Auto "Dent"ist start as low as $99!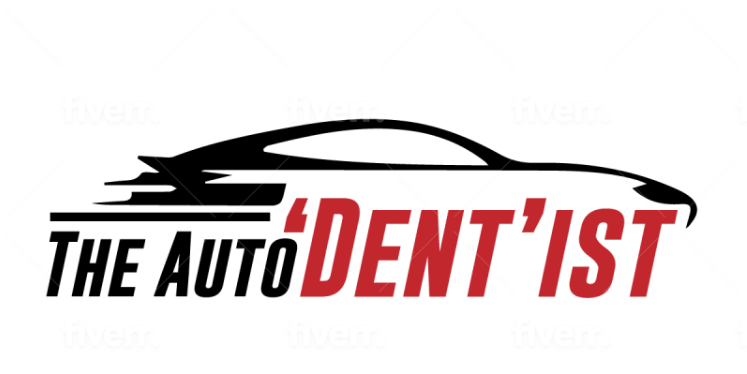 Paintless Dent Repair: Restore Your Car's Beauty and Value Fast, Affordable, and Reliable (503) 649-9940
Google Reviews
Lawrence O'Keefe
May 7, 2021.
This is the 2nd car he's done for me and unfortunately, my wife's car had 3 little dents in the driver side. They were gone within the hour. Awesome work. THANKS!
Dean Taylor
July 6, 2020.
Repeat customer! I have used this company for several of my cars. William, the owner, came out both times and did a fantastic job x 2. Door dings removed 100% gone. He can handle huge dents too. Highly recommend!
Danny Decker
July 31, 2019.
William the owner did a superb job on fixing the dents on our 1987 924S. He was friendly, experienced and exactly what we needed to get out some micro-dings on a 30 year old car. I'm a fan, use this dude for sure!
Nathan Young
February 23, 2019.
Fixed a couple dents in my Subaru. These guys visit my dealership twice a week and do great work. Here's before and after pics. Car looks so much better now!
Bill came to the place of my work and fixed 2 dents on my Toyota Highlander in a very professional way. The first place I went to wanted to charge me 200 dollar more than Bill and I would have had to drop off my car at their place. I am very happy with the result and I highly recommend this company.
Scott Gallagher
March 7, 2017.
Bill and the guys at Auto Dentist are amazing!! First, Bill is honest, trustworthy and has very high integrity. If he can't fix a dent, he'll be the first one to tell you. He's on time, very personable and wonderful personality. Second, When coming to dents, he's a miracle worker. He has fixed about 95% of all dents and the other dents he tries to make looking better. He as 25 years of experience and is reasonable in price. If you are looking for the best Dent guy, look no further. Thanks Bill for all your hard work.
Lee Evans
February 15, 2017.
Bill was able to come to my Location the same day I called. I had a dent in the side of my car that I got from a boot flying over the center barrier on 26. The quote I received was cheaper than my deductible and the results are nothing short of amazing. Bill is a nice guy and even better, a magician at his craft. Call him first...
Eugene Tupper
February 9, 2017.
Excellent service, very professional, reasonable and friedly